Home page
Hello, thank you for visiting my website.

The band Falsettos consists of the four following members: Miuko (Gt. Vo.), Ingel (Ba.), Yukiko (Key. Tp.) and Fumie (Dr.).
Miuko's signiature technique is cooking using her portable cooker. Ingel's treasure is her 528Hz Turning Fork, while Yukiko's is music workshops for children. And ThetaHealing is another side of Fumie. Their music is influenced by Robert Wyatt, Aksak Maboul, Joy Division, Slapp Happy, Bjork, Suicide, This Heat, Caetano Veloso, et al. Falsetto's style encompasses folk, rock and punk and contains an otherwordly touch provided by their tendency to create songs during jam sessions; and so the band aptly describe their music as 'dream punk'.
The above text was translated from a flyer I received last year for a performance on 2014/03/01 --naturally, I've taken some liberties (and there were some things I wasn't completely sure about) but I believe the true message has remained intact. Here is a typed version of the original text:

Falsettos have only released two CD-Rs (the first was released 6 or 7 years ago; the second was released in August 2015) and have no studio albums. However, that will soon change since the band intend to release their first full-album in 2016 (with January to March provided as a vague estimate). They have not yet decided if they will publish it independently or on a label, but they do hope to find a distributor that will sell their album across stores in Japan and on Amazon.
Below is a translation of Falsetto's biography from their official website:
Formed in 2006. Miuko loves acid folk; Ingel loves '80s synthesiser and drum sounds; Yukiko loves children and classical piano; Fumie loves the planet Earth, and all four play instruments. Raw and romantic punk rock music. Falsettos have mainly been performing in Tokyo, the capital.
http://www.falsettos.beer/#!profile/c2015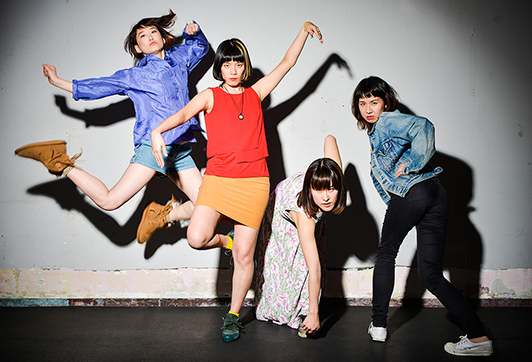 Photo: Rino Kojima