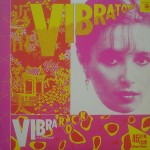 The first track is Chikyuu no katasumi de (sabaku-hen) by Haruo Chikada & Vibratones. This song is from Vibratones' second record, an EP called VIBRA-ROCK --released in 1982. Their first, Midnight Pianist --an LP--, was released in the previous year. Even though this is one of my favourite new wave songs the reason I opened this mixtape with it is simply because of Haruo's significance in Japanese pop music. Haruo has been active since the early seventies, most of his work then, as I understand, consisted of film soundtracks for directors such as Koji Wakamatsu --composed under a pseudonym. He also had a rock band called Haruo Chikada & Haruphone in the mid to late seventies which sometimes bordered upon new wave. Haruo Chikada & Haruphone released three albums in total. In 1979 Haruo released his first solo-album --a relatively early synthpop record, Tennen no bi. Tennen no bi, although produced by Haruo Chikada, features four arrangements by the legendary synthpop group Yellow Magic Orchestra.
Haruo was always ahead of the Japanese bell curve: one of the first to make a synthpop record, new wave records, and even hip-hop, and techno. His foray into recorded rap music began with Kyoko Togawa's Sekinin Totteyo on the 1986 album B.G. NEO WORKING SONG, a record which Haruo produced.
A year later Haruo went full-rap (as opposed to pop-synth-rap), he released a split-12" single (under the name President BPM) with Japanese hip-hop legends Tinnie Punx (a duo consisting of Kan Takagi, and Hiroshi Fujiwara) who collaborated with Seiko Ito in their debut LP Kensetsuteki back in 1986. The most interesting thing about the split-12" is that Haruo Chikada's side was produced by Motonari Kanou, and Tinnie Punx's side was produced by Haruo Chikada. Motonari Kanou is an obscure name which isn't credited on many releases, but he was a turntabilist on Shi-Shonen + Keisuke Kuwata's synthrap song Junk Beat Tokyo (which had lyrics written by the aforementioned Seiko Ito).
Kensetsuteki should be of interest to everyone interested in Japanese music because of the major names involved with it: Yukihiro Takahashi, and Haruomi Hosono of Yellow Magic Orchestra; Tohru Okada of Moonriders; Tomofumi Suzuki of Portable Rock; Kazufumi Kodama of Mute Beat; the idiosyncratic Yann Tomita; and the singer Sandii. All of these people either sing, or play on the record. And then there's the master engineer Mitsuharu Kobayashi --who also engineered records by new wave icons such as Hikashu, Salon Music, and Jun Togawa. Oh, and then there's that one track, Ore no senaka ni hi o tsukero!!, which was arranged by the very leftfield new wave band Uchoten. I'll talk more about these people as they inevitibly pop-up later throughout this tour.
Several years later, in 1989, Haruo Chikada & Vibrastone released the live hip-hop record Vibra is Back!. This new Vibrastone were a super-group; Oto, the guitarist of the (during their prime) funky post-punk group Jagatara --a band whose influence spread as far as the American rock band Talking Heads-- was also a member of Vibrastone, so was Yuji Okiyama (which is a name we'll see a lot of later). As for Haruo Chikada & Vibratones, the band consisted of, besides Haruo Chikada, Haruo Kubota, Hoppy Kamiyama, and a bunch of other people of varying importance. Haruo Kubota, and Hoppy, however, are by far the second, and third most prolific members of Haruo Chikada & Vibratones.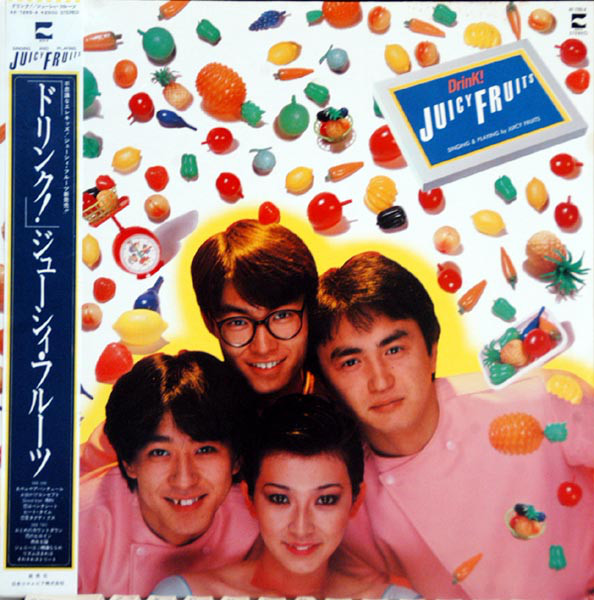 The second track is called Jenii wa gokigen naname. It is by the band Juicy Fruits, and is from their first record, Drink!, and was released in 1980. Juicy Fruits' first three records were produced by Haruo Chikada. And their fourth was made in collaboration with Seiji Toda (of Shi-Shonen, Real Fish, as well as being an extremely important producer). The singer, Atsuko Okuno was previously in the rock group Girls. Unfortunately, Girls' records are rather expensive, so I don't own any, but I know that at least one of them was produced by Johnny Nishimura --he also produced the popular rock group Godiego. I recommend listening to Godiego's album Magic Monkey --which was the soundtrack for a show in the seventies that was based on Journey to the West. Another member of Juicy Fruits has already been mentioned in the previous section: Yuji Okiyama. Another, Toshio Takagi was a guest musician on some of Hikahu's records (whose first three records were also produced by Haruo Chikada). The fourth member of Juicy Fruits, Toshihiko Shibya, is seemingly unimportant, but he has written songs for various pop idols.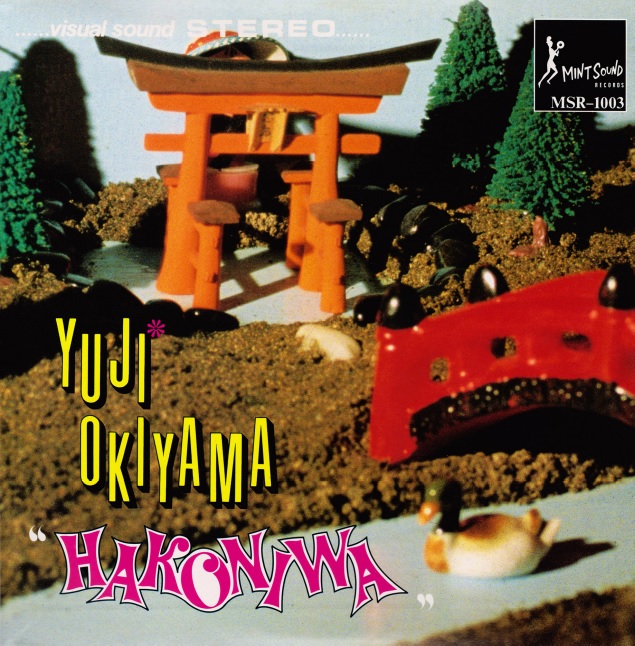 The third track is called A Fool On The Tour. It is by Yuji Okiyama, and is from the 1986 record Hakoniwa. The lyrics were written by Kenzo Saeki (of too many bands to list), and the music was composed by Nobuo Akagi (who has produced for the constantly mentioned Haruo Kubota, and Miwako Saito of the pop group Tango Europe). Yuji Okiyama was the bassist for Juicy Fruits during 1980 to 1984. And before joining Juicy Fruits he was a member of the short-lived group Haruo Chikada & BEEF --they didn't release any records. Although this is Yuji's only solo-album, he also released a single in 1981 titled Tokyo kiken yarou.
Accompanying Yuji Okiyama on this record are Koji Ueno, Tomofumi Suzuki, Takao Higae, Toshiro Sensui, and the two aforementioned people Kenzo Saeki, and Nobuo Akagi.
This record was released by MINT SOUND RECORDS, a significant record label that was founded in 1984. They released, in addition to Hakoniwa, records by artists such as The Phantom Gift, Toshiro Sensui, and Shonen Knife. Generally, new wave, punk, and group sounds revival. Takao Tajima's popular Shibuya kei group (and later a solo-project) Original Love also have a song which is on the Mint Sounds' Greatest Hits compilation, although their first record appears to have been released on the record label Jara jara --who had close ties to Morio Agata.